Communication: Influence and Persuade Others by Reading Them Like a Book
A free trial credit cannot be used on this title.
Unabridged Audiobook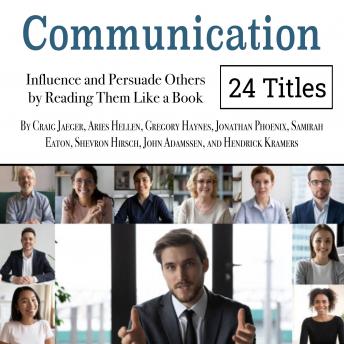 Duration:
20 hours 58 minutes
Summary:
This is a huge combination of a series of books. There are 24 titles, which are subdivided into the following topics:



Topic 1: Socializing can be a real challenge. You may not think of it as such, but if you take into account all the subtle body language, what different meanings the words imply, and tone of voice, it can be tricky for those who get nervous or don't possess the skills to see all those references.



Topic 2: When it comes to reading others' thoughts, it matters to make eye contact. The eyes are the windows of the soul, they say. In this guide, this is just one of many topics that will be addressed.



Topic 3: Co-dependent relationships can be quite the challenge. Many people are in one, even though they don't realize it. It typically consists of a couple enabling each other or manipulating each other, and individuals who lack self-esteem. Or they might have a feeling that the relationship is all they need or will satisfy all their needs. Often, it is based on a lie or a learned pattern from their childhood.



Topic 4: There are several topics included in this book that relate to influencing others. Some of these can help you master your own emotions and qualities. Others can improve your leadership skills or help you communicate with people more effectively.



Topic 5: Here we will talk about how emotional intelligence boosts creativity and innovation. We will discuss how you can recognize a lack of emotional intelligence in others. Also, we will touch on how it can boost your income, how it relates to anxiety or narcissism, or how it can help you compete.



And 3 other topics!
Genres: