Company Man: Thirty Years of Controversy and Crisis in the CIA
Unabridged Audiobook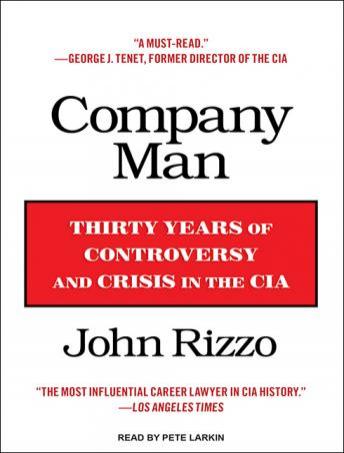 Duration:
12 hours 24 minutes
Summary:
In 1975, fresh out of law school and working a numbing job at the Treasury Department, John Rizzo took 'a total shot in the dark' and sent his resume to the Central Intelligence Agency. He had no notion that more than thirty years later, after serving under eleven CIA directors and seven presidents, he would become a notorious public figure-a symbol and a victim of the toxic winds swirling in post-9/11 Washington. From serving as the point person answering for the Iran-Contra scandal to approving the rules that govern waterboarding and other 'enhanced interrogation techniques,' John Rizzo witnessed and participated in virtually all of the significant operations of the CIA's modern history.

In Company Man, Rizzo charts the CIA's evolution from shadowy entity to an organization exposed to new laws, rules, and a seemingly never-ending string of public controversies. Rizzo offers a direct window into the CIA in the years after the 9/11 attacks, when he served as the agency's top lawyer, with oversight of actions that remain the subject of intense debate today. In Company Man, Rizzo is the first CIA official to ever describe what 'black sites' look like from the inside and he provides the most comprehensive account ever written of the 'torture tape' fiasco surrounding the interrogation of Al Qaeda suspect Abu Zubaydah and the birth, growth, and death of the enhanced interrogation program.

Spanning more than three decades, Company Man is the most authoritative insider account of the CIA ever written-a groundbreaking, timely, and remarkably candid history of American intelligence.
Genres: