Complaint Free Relationships: How to Positively Transform Your Personal, Work, and Love Relationships
Unabridged Audiobook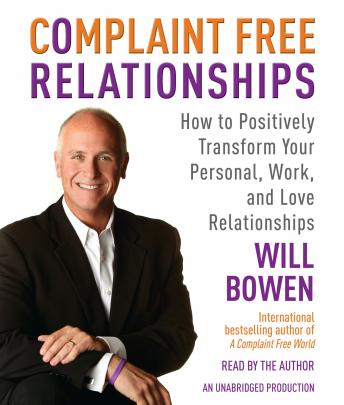 Duration:
6 hours 36 minutes
Summary:
A revolutionary approach to improving every relationship in your life, Complaint Free Relationships picks up where the internationally successful A Complaint Free World left off, with all-new methods to help you overcome toxic habits and build strong, successful connections with others.
 
The original Complaint-Free movement has exploded into an international phenomenon, with 5.5 million people in more than 80 countries taking the pledge to create a complaint-free life, as well as national media attention.  As this movement expands, it is clear that the real focus of achieving true complaint-free living lies in our relationships. 
     People complain to bond with others. It's easy to feel connected by common annoyances. But most complaining is about people, and this leads to negative and unhealthy foundations for our relationships with others--from family, lovers and friends to our more casual connections with people in our daily lives. Complaint-Free Relationships provides insight and helpful tools to see, understand, and engage in our relationships through the lens of complaint-free living. It incorporates new studies about complaining, inspiring and illuminating stories from Will Bowen's experience both as a minister and founder of the Complaint Free movement, and practical exercises at the end of each chapter.
     By providing the tools you need to escape the trap complaining creates--feeling unfulfilled and inadequate--Complaint-Free Relationships offers new clarity and encourages you to create happy, stimulating and mutually satisfying relationships.
Genres: