Conquering Unrelenting Information Overload
Unabridged Audiobook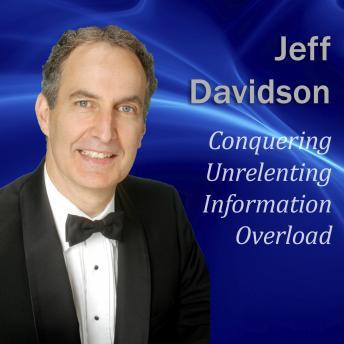 Duration:
0 hours 33 minutes
Summary:
This program is for anyone who wants to experience less clutter, be more productive, and go through each day with greater clarity and focus. Author and prolific speaker Jeff Davidson discusses why every gainfully employed adult in America faces unrelenting information and communication overload—and how to regain control.
Jeff explains that while no one is coming to help you, you already have all the tools and smarts you need to manage information and not be abused by it. He emphasizes the tremendous benefits of doing one thing at a time--a difficult skill to master when we are bombarded with cues like 'click here,' 'push me,' 'take me on,' 'you can handle it,' do many things at once!
Jeff shatters the myth of multitasking and exposes it as a false notion that makes you think you have to double and triple up on tasks to stay competitive, be worthy, or gain satisfaction from what you're doing. Do one thing at a time, strive for completions, and give yourself the opportunity to work uninterrupted, he advises, and you'll accomplish great things. As you will learn, no matter how hectic your workday can be, and how difficult it is for you to enjoy some quiet, uninterrupted stretches where you can do your best work, you can always attain some pockets of time throughout the week.
Genres: