Coronavirus: Knowing What to Do during the Covid-19 Pandemic
A free trial credit cannot be used on this title.
Unabridged Audiobook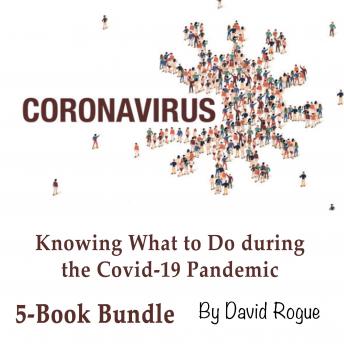 Duration:
5 hours 17 minutes
Summary:
The complete bundle with information about the coronavirus from 5 different books!

 

Book 1 - With the world watching the news each day about the infamous COVID-19 Virus, a version of what is more broadly classified as a 'Coronavirus,' like SARS, it's hard to ignore the facts and the opinions as many economies are being put on hold, stocks are plummeting, businesses are applying for loans, and everyone is encouraged to stay at home.


Book 2 - Being stuck at home can be annoying. I watched as my in-laws were eager to hug our children but didn't, just because they wanted to abide by the rules the president of the United States and many other international leaders have set. Some people say they lost their jobs. Others report being sick of one another, not of the virus. Fortunately, I live in a nice-enough home, but I can't imagine how hard it is for some people who live in a small apartment, like the ones I've seen in Tokyo.


Book 3 - We don't know everything about the Coronavirus yet (or COVID-19, which is the more accurate name). Many reports have suggested that it may have originated from the bat soup the inhabitants of the Chinese Wuhan province drink or drank on a regular basis, since bats, like rats, are often carriers of numerous diseases.

 

Book 4 - I have often wondered if there would be a zombie outbreak like in the movie 'I Am Legend' and even though this is not exactly the same, the rise of COVID-19 is the closest thing we know, I think.

 


Book 5 - It's inevitable to say that the Coronavirus, or Covid-19, more accurately, has done severe damage, both on the health and finances of people, businesses, hospitals, and entire nations. This book will focus on some of those horrific stories.


THIS AUDIOBOOK MAY INCLUDE INFORMATION REGARDING THE COVID-19 PANDEMIC. INFORMATION RELATED TO COVID-19 CONTINUES TO EVOLVE. AUDIOBOOKS.COM ENCOURAGES YOU TO SEEK UP-TO-DATE INFORMATION AND GUIDANCE FROM YOUR LOCAL PUBLIC HEALTH UNIT.
Genres: