Creating Speeches That Work: How to Create a Speech that will make your Message be Remembered Forever!
A free trial credit cannot be used on this title.
Unabridged Audiobook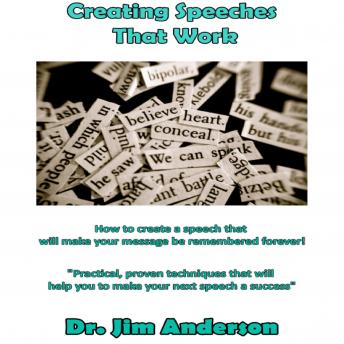 Duration:
1 hours 7 minutes
Summary:
Let's face it, creating a speech is hard work. However, as long as we are going to go to the effort of creating a speech, it sure seems like we should do a good job of it. Now the difficult part comes: just exactly how does one go about creating a speech that works?



What You'll Find Inside:

- SIZE MATTERS – SHAPING YOUR SPEECH TO MATCH YOUR AUDIENCE

- THE SECRET TO BECOMING AN EXPERT IN ANYTHING

- GET IT DONE: THINKING ON YOUR FEET AND BUILDING A SPEECH REAL QUICK

- 4 THINGS THAT YOU SHOULD NEVER TALK ABOUT



We need to keep in mind the fact that we are never creating a generic speech. Instead, we're creating a specific speech for a specific audience. What this means is that we need to customize our speech to our audience. Our ultimate goal is to be able to create a speech that is so good that we are able to cast a spell over our audience.



We want our audience to listen to what we have to say. This means that we need to find ways to get them to view us as being the experts on what we are talking about. If we want them to remember what we've told them, then we need to find ways to make them laugh during our speech. This is no easy thing to accomplish.



In our hopes of getting our audience to listen to us, we all struggle with the same sets of questions. Will they believe us? This comes down to the age old question of if an audience will believe what you are telling them because of who you are or because of how you tell them. If you have not had time to prepare a formal speech, then you had better be good at thinking on your feet!



The only tool that we have to work with when we are giving a speech is words. What words we use and how we put them together can allow us to create powerful speeches that can change how people think. When we are creating these speeches we need to keep in mind the fact that the best speeches often have a great deal of us in them.
Genres: