Creating the Ultimate Basketball Player: Learn the Secrets Used by the Best Professional Basketball Players and Coaches to Improve Your Conditioning, Nutrition, and Mental Toughness
Unabridged Audiobook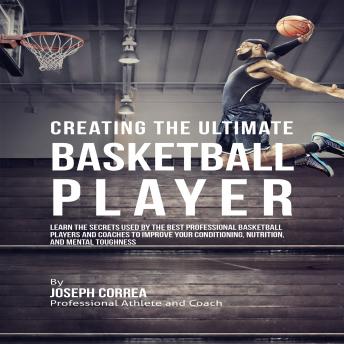 Duration:
4 hours 2 minutes
Summary:
To reach your true potential you need to be at your optimal physical and mental condition and in order to do this you need to start an organized plan that will help you develop your strength, mobility, nutrition, and mental toughness. This book will do that. Eating right and training hard are two of the pieces of the puzzle but you need the third piece to make it all happen. The third piece is mental toughness and that can be obtained through meditation and visualization techniques taught in this book.



This book will provide you with the following:



-Normal and advanced training calendars

-Dynamic warm-up exercises

-High performance training exercises

-Active recovery exercises

-Nutrition calendar to increase muscle

-Nutrition calendar to burn fat

-Muscle building recipes

-Fat burning recipes

-Advanced breathing techniques to enhance performance

-Meditation techniques

-Visualization techniques

-Visualization sessions to improve performance



Physical conditioning and strength training, smart nutrition, and advanced meditation/visualization techniques are the three keys to achieve optimal performance. Most athletes are missing one or two of these fundamental ingredients but by making the decision to change you will have the potential to achieve a new "ULTIMATE" you.



Athletes who begin this training plan will see the following:



- Increased muscle growth

- Reduced stress levels

- Enhanced strength, mobility, and reaction

- Better capacity to focus for long periods of time

- Become faster and more enduring

- Lower muscle fatigue

- Faster recovery times after competing or training

- Increased flexibility

- Overcome nervousness better

- Better control over you breathing

- Control over your emotions under pressure



Make the choice. Make the change. Make a new "ULTIMATE" you.
Genres: