Credit Repair: The Ultimate Guide to Boosting Your Credit Score, Paying off Debt, Saving Money and Managing Your Personal Finances in a Stress-Free Way
A free trial credit cannot be used on this title.
Unabridged Audiobook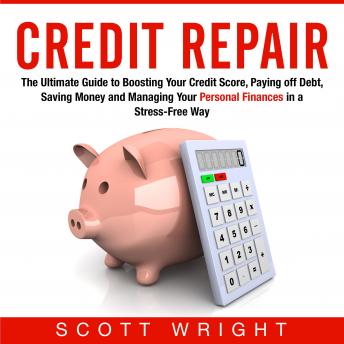 Duration:
3 hours 14 minutes
Summary:
If you want to discover how to effectively repair your credit, pay off debt and save money, then keep reading...
Are you sick and tired of being the victim of faulty credit reporting or mistakes of the past?
Have you thought about doing something about your credit score but feel overwhelmed and don't know where to start?
Do you finally want to say goodbye to being worried the next time a potential employer, landlord or bank says they are going to check your credit?
If so, then you've come to the right place.
You see, improving your credit score doesn't have to be as difficult as many think it is.
Inside this book, you will learn the factors that affect your credit score and how you can fix them. You will also discover ways to pay off debt.
If you have been struggling to save money or manage your finances effectively, then this book will give you the methods that will allow you to start saving for your future.
In this book, you will learn about:
Boosting Your Credit ScorePaying Off DebtSaving MoneyManaging Your Personal Finances in a Stress-Free WayAnd much, much more!Take a second to imagine how you'll feel once you have increased the probability of finding a job or even being accepted as a new tenant because employers and landlords now look at you differently.
And how your family and friends will react when you have your finances in order.
So even if you've made financial mistakes in the past, you can start moving your finances in the right direction.
And if you have a burning desire to boost your credit score, pay off debt and save money, then scroll up and click "add to cart"!
Genres: