Crisanta Knight: Protagonist Bound
A free trial credit cannot be used on this title.
Unabridged Audiobook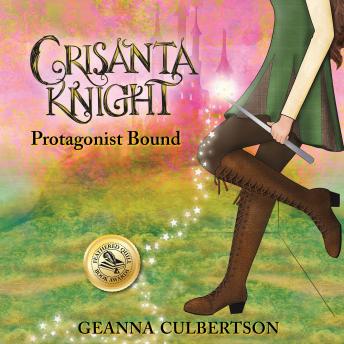 Duration:
11 hours 44 minutes
Summary:
The next generation - the children of Snow White, Cinderella, and others - have lives and stories of their own. And not just long ago and far away but (sort of) here and now! Enjoy!

I was going to be a great protagonist. At least that's what my mom, Cinderella, kept telling me. I, however, had my doubts. Unlike most main characters at Lady Agnue's School for Princesses & Other Female Protagonists, I was opinionated, bold, and headstrong. Moreover, for a princess, I had a lot of issues. I'm talking vicious nightmares about people I've never met, a total stalker prince, and a Fairy Godmother for an enemy.

But I digress. Because here's the thing about living in an enchanted realm of fairytale characters, crazy junk you never planned on happens all the time. One minute you could be practicing fainting exercises in Damsels in Distress class, sword fighting in a field, or flying on a Pegasus, and the next, BAM! Your book has begun and you're saddled with a prophecy that changes everything.

I still don't know if I will be a great protagonist one day. But I know one thing about my fate, for certain. Despite what The Author and the antagonists have in store for me, whatever it costs. . .I'll be the one taking charge of my own story..

Readers love Crisanta Knight!

"The series is a great young adult fantasy fairy tale read that often reminds me of the television show Once Upon a Time." – Carrie's Book Reviews

'A great read that quite often had me laughing and enjoying what was going on. There's plenty of action and great characters. Definitely one I'd recommend checking out if you enjoy fairy tales to meet this next generation and root them on in their journey!' – Carrie's Book Reviews

"The suspense builds up a little at first, and then bam, excitement and adventure as Crisanta actually does something to change her fate, all in the fairytale realm of Book, where fairy godmothers, Prince Charmings, and happily ever after aren't all they're cracked up to be." – I Read Too Much! blog

'Crisanta Knight: Protagonist Bound is an outstanding book the writing, pace and premise are very well done the story keeps you turning the page in anticipation of what will happen next." - Books in Brogan

The Crisanta Knight series

Book 1 - Protagonist Bound;
Book 2 - The Severance Game;
Book 3 - Inherent Fate;
Book 4 - The Liar, The Witch, & The Wormhole;
Book 5 (to be released in April of 2019) - To Death & Back.
Genres: