Cryptocurrencies: ICO, Litecoin and Bitcoin Investing
Unabridged Audiobook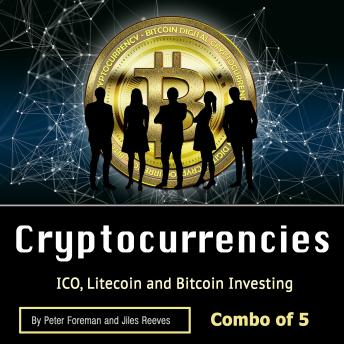 Duration:
5 hours 11 minutes
Summary:
5 books:
ICO Investing - The newest thing is to invest in cryptocurrencies. Some people call it gambling, others know what they are doing and increase their chances of wealth and an ROI. Which are you going to be? And what does all this have to do with ICO anyway? In this audiobook, you will learn new things you might have never thought of before.
Litecoin - Several cryptocurrencies are fighting to be first in line, and although Bitcoin is the largest, most expensive one at this moment, there may be other opportunities people have overlooked. Litecoin is one of those. With Litecoin, there are great possibilities. Hence the purpose of this guide: to enlighten you and show you the way regarding this currency.
Bitcoin Trading - People have been talking about it for a while now. They used to say it's a scam, it's for nerds, or it will disappear in a year or two. Well, now some of those skeptics have joined the mining and trading game themselves.
Bitcoin Tools - Aside from all the basic "bitcoin for beginners" books, this book shares a different perspective by looking at the specific tools you can use, such as blockchain and charting tools, to mine and buy bitcoin, and cash on it big time at the right time!
Bitcoin Business - The Bitcoin hype has blown up and it's still a great opportunity to invest or buy cryptocurrencies. How long it will last, nobody knows. But if you know what you're doing, you can definitely increase your income. This book is there to guide you to make the right decisions. It focuses specifically on the business side of it, and whether or not you can make a return on investment.
Genres: