The Culture of War
Unabridged Audiobook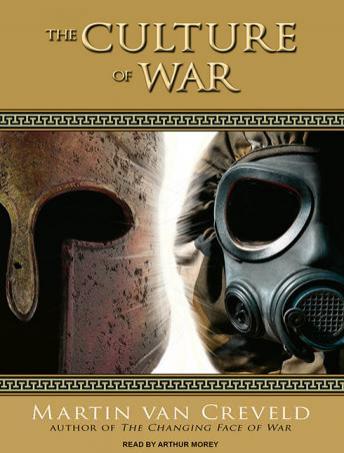 Duration:
18 hours 30 minutes
Summary:
A respected scholar of military history and an expert on strategy, Martin van Creveld recently explored the modern world's shifting method of combat in The Changing Face of War. Now, in The Culture of War, he argues that there is much more to war than just soldiers killing one another for whatever reason.

War has always been a topic of deep intrigue. Fighting itself can be a source of great, perhaps even the greatest, joy; out of this joy and fascination an entire culture has grown-from the war paint of tribal warriors to today's 'tiger suits,' from Julius Caesar's red cloak to Douglas MacArthur's pipe, from the decorative shields of ancient Greece to modern aircraft nose art, and from the invention of chess around A.D. 600 to cyber era combat simulators. The culture of war has had its own traditions, laws, rituals, music, art, literature, and monuments since the beginning of civilization.

Through the ages, the culture of war has usually been highly esteemed. Not so in today's advanced countries, which tend either to mock it ('Military intelligence is to intelligence what military music is to music') or to denounce it as 'militaristic.' This provocative book, the first of its kind, sets out to show how wrongheaded, and even dangerous, such attitudes are. The Culture of War argues that men and women today, contrary to the hopes of some, are just as fascinated by war as they have been in the past. A military that has lost touch with the culture of war is doomed not merely to defeat but to disintegration.

Innovative, authoritative, and riveting, The Culture of War is a major work by one of the world's greatest and most insightful military historians.
Genres: