Culture Shift: A Practical Guide to Managing Organizational Culture
Unabridged Audiobook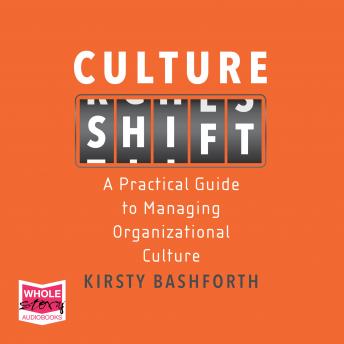 Duration:
7 hours 18 minutes
Summary:
Today, stakeholder consideration focuses as much on an organization's culture as it does on the
bottom line – employees want to work for a company that has clear values and an engaging
environment; customers and clients want to know they're supporting a worthwhile brand; and
investors increasingly look to back socially responsible companies with good organizational
health. Yet internally, culture is too often still regarded as an add-on, a one-off moment of
focus, or a distraction from the real day to day business. And when it is given that real focus,
the approaches adopted to manage it can prove costly and campaign-like, leading to only
temporary emphasis and shift.
Using her extensive experience, Kirsty Bashforth outlines exactly what it takes to tackle the topic
of culture in an organization. The book explores the questions to ask, who to involve, and what
it takes for the person leading the work to fulfil their role. In this practical guide, Bashforth
outlines how to recognise the culture you have today, explore the culture you need and how to
communicate those expectations to a number of stakeholders; implement new, lasting habits
in the workforce; effectively measure and track organizational culture; as well as deal with
pushback from decision makers when, as time passes, the planned culture shift risks falling
lower on their agenda.
Culture Shift is about how to do things differently. It shows how to ensure culture change, using
your own resources, and how to put culture permanently at the core of running the business.
Genres: