Cursed & Cherished: The Duke's Wilful Wife
Unabridged Audiobook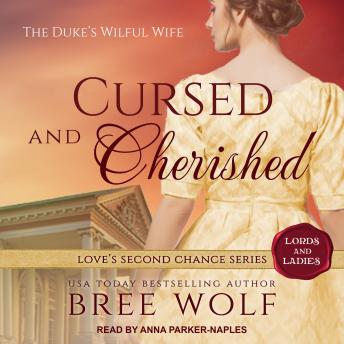 Duration:
8 hours 11 minutes
Summary:
A dashing duke. A headstrong heroine. And a battle of wills.

Edmond Dunsworth, Duke of Cromwell, is bankrupt. The solution to his problem: a wife with a sizable dowry.

Not worried in the least, Edmond takes his pick. After all, what woman could resist his charms?

However, when his choice lands on fiery Anna, he realizes he may not be able to conquer his wife's heart with a charming smile alone.

Anna Hanford, a merchant's daughter, is faced with a difficult choice: allow her sister to marry the duke and see her happiness shattered . . . or marry the duke herself.

Determined to ensure her sister's future, Anna makes her choice. After all, isn't marriage just a minor inconvenience in life?

Unfortunately, her new husband proves to be more than an inconvenience . . . but an enticement instead.

Will Anna be able to resist him? Or will Edmond manage to conquer her heart after all?

This tale by a USA Today bestselling author will make you smile and chuckle at Edmond's different attempts to entice his wife while making you wish to hit stubborn Anna over the head for resisting his charms.
Genres: