DAN+ABBY: Scenes from a City Park
A free trial credit cannot be used on this title.
Unabridged Audiobook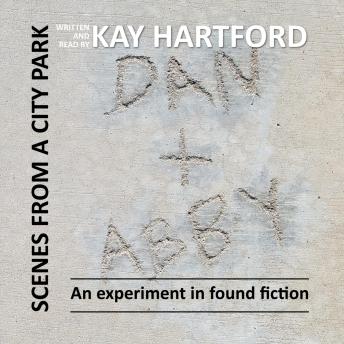 Duration:
2 hours 12 minutes
Summary:
If you like people watching, this is one is for you. 

DAN+ABBY is a novel made up of 52 flash fiction chapters. The title comes from graffiti scratched into wet cement decades ago in an Arizona city park. The park visitors, activities and art inspired this anthology of a year's worth (52) of short-short stories. One story each month updates Dan and Abby's lives since he scratched their names on a footbridge in 1968. Each story stands alone; together, they are a portrait of a community in the manner of Spoon River Anthology by Edgar Lee Masters.

All of the images in this project were taken with the author's cell phone camera. The images are presented in grayscale in the paperback edition, and in color in the Kindle edition. A book club guide is available.

The DAN+ABBY project began as a 12-month series on Wattpad.com that concluded in June 2018. The collection includes character sketches, candid images, quick scenes and sometimes longer pieces.

About found fiction

Found fiction uses people watching as a starting point for literary writing. The stories in DAN+ABBY are woven from imagination.

These stories are not intended to represent actual people or events, and the images are used outside of their original context. In all but one case, the author never interacted with the situations shown in the images and had no direct knowledge of what the subjects were actually doing or thinking.

In short: DAN+ABBY is fiction. It's not about anybody in particular. It's about everybody.
Genres: