A Dangerous Affair
Unabridged Audiobook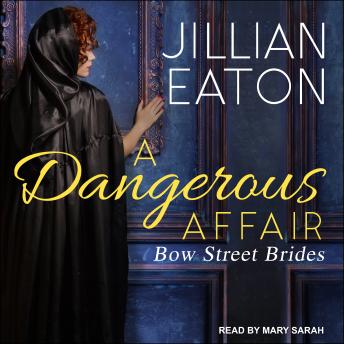 Duration:
7 hours 56 minutes
Summary:
A THIEF WITH NOTHING TO LOSE . . .

Juliet is beautiful, intelligent, . . . and one of the best thieves in all of London. Raised in the cutthroat streets of St. Giles, she's learned to survive by whatever means necessary. Even if those means include pretending to be a highborn lady to avoid capture by The Wolf, one of Bow Street's most cunning runners . . . and the only man to ever set her blood on fire.

A RUNNER WITH A SCORE TO SETTLE . . .

Grant is charismatic, titled . . . and second-in-command of the Bow Street Runners. When his captain orders him to find and arrest the lad who has been stealing jewelry from the ton's elite, he thinks it's just another job. Until the lad turns out to be a five-foot, four inch red-haired hellion with a penchant for knives . . . and the softest lips he's ever kissed.

A DANGEROUS AFFAIR . . .

Juliet and Grant's daring game of cat and mouse will take them from the glittering ballrooms of Grosvenor Square to the dangerous alleys of the East End as they try to outwit one another . . . and fight their growing passion. But when an enemy from Juliet's past threatens her future, she has no other option except to trust the runner she has sworn to hate. Forced to choose between duty and desire, will Grant listen to his head . . . or risk everything to follow his heart?

Contains mature themes.
Genres: