A Dangerous Crossing: A Novel
Unabridged Audiobook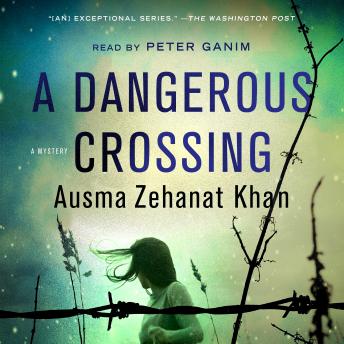 Duration:
11 hours 49 minutes
Summary:
'Engaging from the first chapter, Khan's novel provides a startling introduction to the Syrian refugee crisis, with characters, dialogue, and tragedies that come alive in audio. Using nuanced intonations and a slow and steady style of narration, narrator Peter Ganim's presentation is impeccable.' — AudioFile Magazine

From the critically acclaimed author of The Unquiet Dead comes a devastatingly powerful new thriller audiobook that will stay with listeners long after the final track. A Dangerous Crossing by Ausma Zehanat Khan is haunting, disturbing, and thoroughly captivating.

For Inspector Esa Khattak and Sergeant Rachel Getty, the Syrian refugee crisis is about to become personal. Esa's childhood friend, Nathan Clare, calls him in distress: his sister, Audrey, has vanished from a Greek island where the siblings run an NGO. Audrey had been working to fast-track refugees to Canada, but now, she is implicated in the double-murder of a French Interpol agent and a young man who had fled the devastation in Syria.

Esa and Rachel arrive in Greece to a shocking scene, witnessing for themselves the massive fallout of the Syrian war in the wretched refugee camps. Tracing Audrey's last movements, they meet some of the volunteers and refugees—one of whom, Ali, is involved in a search of his own, for a girl whose disappearance may be connected to their investigation. The arrival of Sehr Ghilzai—a former prosecutor who now handles refugee claims for Audrey's NGO—further complicates the matter for Esa, as his feelings towards her remain unresolved.

Working against time, with Interpol at their heels, Esa and Rachel follow a trail that takes them from the beaches of Greece, to the Turkish–Syrian border, and across Europe, reaching even the corridors of power in the Netherlands. Had Audrey been on the edge of a dangerous discovery, hidden at the heart of this darkest of crises—one which ultimately put a target on her own back?
Genres: