Dark State: A Novel of the Merchant Princes Multiverse (Empire Games, Book II)
Unabridged Audiobook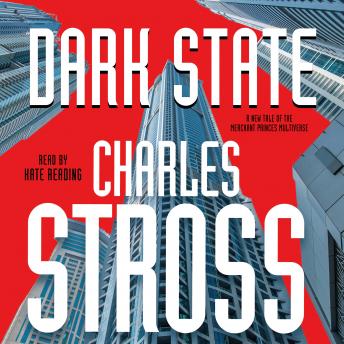 Duration:
13 hours 57 minutes
Summary:
Hugo Award-winning author Charlie Stross dives deep into the underbelly of paratime espionage, nuclear warfare, and state surveillance in this provocative techno-thriller audiobook set in The Merchant Princes multi-verse

Dark State ups the ante on the already volatile situations laid out in the sleek techno-thriller Empire Games, the start to Stross' new story-line and a perfect entry point for new listeners, in The Merchant Princes series.

In the near-future, the collision of two nuclear superpowers across timelines, one in the midst of a technological revolution and the other a hyper-police state, is imminent. In Commissioner Miriam Burgeson's timeline, her top level agents run a high risk extraction of a major political player. Meanwhile, a sleeper cell activated in Rita's, the Commissioner's adopted daughter and newly-minted spy, timeline threatens to unravel everything.

With a penchant for intricate world-building and an uncanny ability to realize alternate history and technological speculation, Stross' prose will captivate listeners who like hi-tech thrillers, inter-dimensional political intrigue, and espionage.
Genres: