Dark Voyage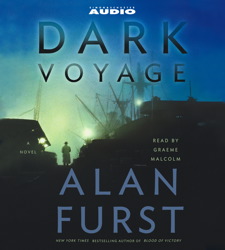 Duration:
6 hours 0 minutes
Summary:
May, 1941. At four in the morning, a rust-streaked tramp freighter streams up the Tagus River to dock at the port of Lisbon. She is the Santa Rosa; she flies the flag of neutral Spain and is in Lisbon to load cork oak, tinned sardines, and drums of cooking oil bound for the Baltic port of Malmö.
But she is not the Santa Rosa. She is the Noordendam, a Dutch freighter. Under the command of Captain Eric DeHaan, she sails for the Intelligence Division of the British Royal Navy, and she will load detection equipment for a clandestine operation on the Swedish coast-a secret mission, a dark voyage.
One more battle in the spy wars that rage through the back alleys of the ports, from elegant hotels to abandoned piers, and in the souks and cafés of North Africa. A battle for survival as the merchant ships die at sea and Britain-the last opposition to Nazi Germany-slowly begins to starve.
From Alan Furst-whom The New York Times calls America's preeminent spy novelist-here is an epic tale of war and espionage, of spies and fugitives, of love in secret hotel rooms, of courage in the face of impossible odds.
Genres: