Darkness Betrayed
Unabridged Audiobook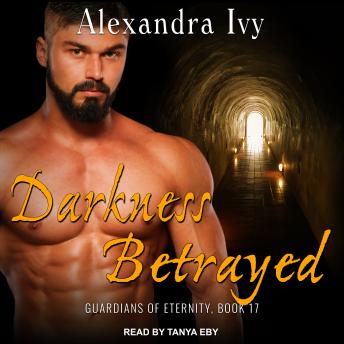 Duration:
6 hours 57 minutes
Summary:
When a conspiracy threatens what's most precious to the Guardians of Eternity, they must depend upon their one-time enemy to protect them . . .

Once, Brigette was the conduit through which the ultimate evil reached Earth. Now she's just a lonely Were isolated in an Irish cottage, cut off from her animal and humanity alike. When a band of rebels approach her to take down the king of the vampires, she knows denying them means certain death-but even if she warns the king, he may not listen to the likes of her.

From the moment Xi slips into Brigette's bedroom to escort her to his king, he sees the heartbreak that hides behind her guilt. The elusive vampire has fought for centuries to master his own regrets, and his word will convince the king to value hers. Neither can escape the attraction between them, even as partners on an undercover mission. But there's no room for pleasure when their work might redeem her to the Guardians completely-or send them to the death they've evaded for so long . . .

Contains mature themes.
Genres: