The Daughter Detox Question & Answer Book: A GPS for Navigating Your Way Out of a Toxic Childhood
Unabridged Audiobook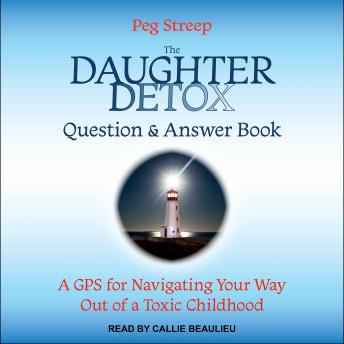 Duration:
9 hours 42 minutes
Summary:
This latest volume by bestselling author Peg Streep picks up where her acclaimed book Daughter Detox: Recovering from an Unloving Mother and Reclaiming Your Life leaves off with 110 answers-all of them founded in science or expert advice-to the most pressing and common questions daughters on the road to recovery from childhood experiences ask.

A unique and valuable tool, the Question & Answer Book is divided into eleven focused chapters, each with its own introduction that establishes the context and illuminates why these questions are important. The book covers all the areas of concern such as your recognition of how you've been wounded; the difficulty of managing your adult relationship to your mother; getting a handle on how your behaviors were shaped and how to change them; mapping out how to care for yourself now and in the future; and, finally, learning to thrive as you move forward.

An indispensable addition to your tool kit of healing, this book will help you arrive at new answers to the questions and thoughts that keep you up in the middle of the night and make you wonder whether it's really all in your head; that's why this book will be a godsend to many, a resource to turn to again and again as you walk the long path of recovering and reclaiming yourself.
Genres: