Daughters of Liverpool
Unabridged Audiobook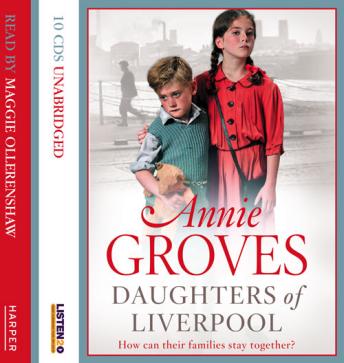 Duration:
11 hours 35 minutes
Summary:
Evocative and heartrending saga of Liverpool during World War Two, from the author of AS TIME GOES BY – rising star Annie Groves


Katie's full of trepidation as she arrives in Liverpool. It's her first posting and her work will be so secret that she can't even speak about it to the family she's billeted with. She makes it clear that she's here to do her bit for the war effort, not to flirt with the many servicemen based at the nearby barracks.


Which is just fine with Luke, son of the household and battle-scarred veteran of Dunkirk. He's had his heart broken already by a flighty nurse. His mother can't help worry about him - but she's got more than enough on her plate with her youngest children, the teenage twins, who don't see why a war should stop them having fun and achieving their ambition to go on the stage. Then the bombs begin to rain in Liverpool in earnest and everyone, from oldest to youngest, must realise what matters most in life.
Genres: