The Daws Butler Collection
Unabridged Audiobook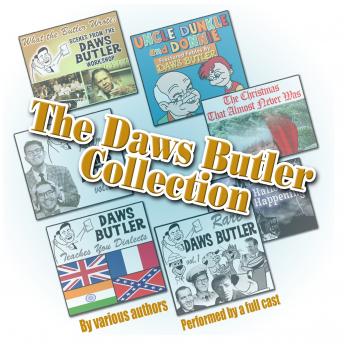 Duration:
17 hours 22 minutes
Summary:
From master voice actor Daws Butler, the voice of Yogi Bear, comes a rare collection of radio plays, cartoon scripts, and acting tutorials.
Daws Butler's Halloween Happening by Daws Butler
A new production of the classic radio play, this ghostlystory was originally written and performed by Daws Butler. Veteran voice actorJoe Bevilacqua teams up with Lorie Kellogg in this new recording, complete withmusic and sound effects.
Scenes from the Daws Butler Workshop
In this series, Joe Bevilacqua presents performances ofseveral scripts Butler wrote for his 1975 acting workshops.
Rare Daws Butler byDaws Butler, Stan Freberg, Herschel Bemardi, Shep Menken, and Carol Hemmingway
Daws Butler voiced many of Stan Freberg's greatest comedyrecords. Here is a hilarious collection of his never-before-released comedyrecords.
Rare Daws Butler, Volume Two by Daws Butler
A follow-up to Rare Daws Butler, this second collectionfeatures another hour of Butler's rare comedy recordings.
Daws Butler Teaches You Dialects by Daws Butler
Voicemagician Daws Butler teaches accents and dialects in this radio production. Included in his tutorials are British, Cockney, Irish,Scottish, Italian, Brooklyn, Hindu, German, French, and Southern.
Uncle Dunkle and Donnie by Daws Butler and Joe Bevilacqua
A collection of imaginative cartoon scripts, this series of thirty-fivefables were created by Butler in the 1960s. Here his protégé, Joe Bevilacqua, performs all ninety-seven characters with music and sound effects.
Uncle Dunkle and Donnie 2 by Daws Butler and Pedro PabloSacrista
This second collection of fables features nineteen never-before-releasedrecordings of Daws Butler's stories, as well as two new Uncle Dunkle fables.
The Christmas That Almost Never Was by Daws Butler
It is Christmas Eve at the North Pole when Santa Claus loseshis "remembery" and only a child who has been good for 365 days can saveChristmas! Written and performed by Butler, this children's radio play was recorded in the 1940s.
Genres: