A Death in the Family - Cherringham - A Cosy Crime Series: Mystery Shorts 24 (Unabridged)
Unabridged Audiobook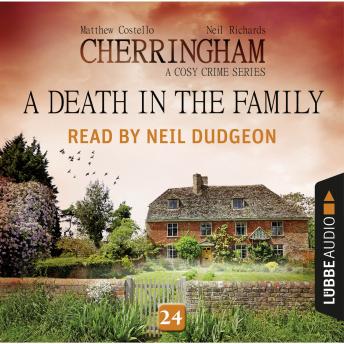 Duration:
2 hours 31 minutes
Summary:
When a doddering Harry Platt tumbles from the top of his stairs in a deadly fall, it looks like an unfortunate accident. But solicitor Tony Standish's suspicions are aroused when he meets the beneficiaries and discovers the immense size of the estate. Jack and Sarah investigate and find that nothing is what it seems when it comes to families - not when money and secrets are involved.

Cherringham is a serial novel à la Charles Dickens, with a new audio episode released every two weeks. Set in the sleepy English village of Cherringham, the detective series brings together an unlikely sleuthing duo: English web designer Sarah and American ex-cop Jack. Thrilling and deadly - but with a spot of tea - it's like Rosamunde Pilcher meets Inspector Barnaby. Each of the self-contained episodes is a quick listen for the morning commute, while waiting for the doctor, or when curling up with a hot cuppa. For fans of Agatha Christie's Miss Marple series, Lilian Jackson Braun's The Cat Who series, Caroline Graham's Midsomer Murders, and the American TV series Murder She Wrote, starring Angela Lansbury.

Co-authors Neil Richards (based in the UK) and Matthew Costello (based in the US), have been writing together since the mid 90's, creating content and working on projects for the BBC, Disney Channel, Sony, ABC, Eidos, and Nintendo to name but a few. Their transatlantic collaboration has underpinned scores of TV drama scripts, computer games, radio shows, and - most recently - the successful crime fiction series Cherringham.

The narrator of the audiobook, Neil Dudgeon, has been in many British television programmes including the roles of 'DCI John Barnaby' in 'Midsomer Murders' and 'Jim Riley' in 'The Life of Riley'. He is also known for his film roles in 'The Nativity', 'Sorted' and 'Son of Rambow'. In 2012 Dudgeon starred as 'Norman Birkett' on BBC Radio 4's Afternoon Play series written by Caroline and David Stafford.
Genres: