Declutter Workbook Vol. 2: Exceed Mental Limits, Define your Focus and Goals, so you will get a Minimalist Style and a Peaceful Life
A free trial credit cannot be used on this title.
Unabridged Audiobook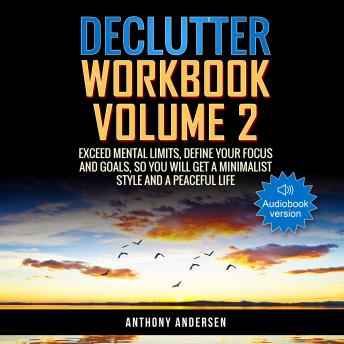 Duration:
3 hours 29 minutes
Summary:
It's time to discover why Minimalism is such a popular and rapidly-growing movement.

Our minds are like our environments – and a cluttered home leads to a cluttered life. Minimalism is a powerful way to boost your productivity, give you more freedom, improve your health, reduce stress and anxiety, and so much more – all by decluttering your environment.

Now, in the second volume of the Declutter Workbook, you'll discover the amazing benefits of Minimalism, and how you can shift your mindsets and attitudes to live a simpler, more rewarding life. From learning to think like a Minimalist to tips for cleaning and decluttering your home, mind, and life, this workbook is a powerful tool for anyone looking to give Minimalism a try.

Here's what you'll discover inside:

• Getting into The Minimalist Mindset (And Avoiding Common Pitfalls)

• The Countless Psychological, Physical, and Financial Benefits of a Minimalism

• The Journey to Minimalism – Tips and Tricks to Beginning Your Minimalist Life

• How to Shop and Travel Like a Minimalist

• Overcoming Mental Limits

• Minimalism With Work, Health, and Finances

• The Power of Mindfulness and Time Management

• And So Much More!

With reference to Minimalist parenting, digital Minimalism, and a wide range of Minimalist "hacks" to help you declutter your life (and stay decluttered), it's never been easier to become a Minimalist! So don't let excess stuff or useless junk consume your life – overcome your mental limits, discover the power of mindfulness, and begin your Minimalist journey today!

Plus, with an audiobook version, you can discover Minimalism even if you have a busy life!

Buy now to join the millions of people already enjoying the benefits of a clutter-free life today!
Genres: