The Deeds of My Fathers: How My Grandfather and Father Built New York and Created the Tabloid World of Today
Unabridged Audiobook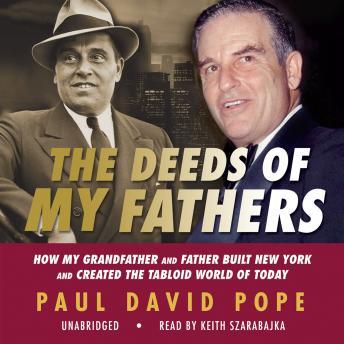 Duration:
11 hours 40 minutes
Summary:
A story that reads like The Godfather has been crossed with Citizen Kane. The Deeds of My Fathers is the riveting true story of two men, a father and a son, who each started with nothing and built an empire.

Generoso Pope, Sr., an Italian immigrant, arrived in New York in 1906 with only pennies in his pocket. He got a job shoveling sand, but through his intelligence, natural leadership, ruthlessness, and ability to woo powerful politicians such as Jimmy Walker and Franklin Roosevelt, he worked his way up to become the biggest provider of cement, just as it was becoming the key building material for New York, vital to landmarks such as Rockerfeller Center and Radio City Music Hall.

Gene Pope, Jr. was his father's choice to inherit and run the business, but Gene's mother and two brothers forced him out, and he found himself penniless and on his own. With a loan from his godfather, mobster Frank Costello, Gene bought the New York Enquirer. He renamed it the National Enquirer and focused on the paranormal, celebrities, and the hopes and fears of Americans. Gene forced the tabloid into the supermarkets and became a powerful media force, peaking with the seven million copies sold of the blockbuster exposé on the death of Elvis.
Genres: