Deeper! Darker!: Six Short Erotic Stories
A free trial credit cannot be used on this title.
Unabridged Audiobook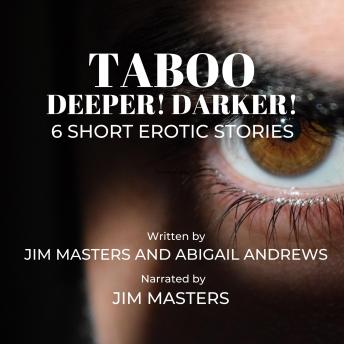 Duration:
3 hours 57 minutes
Summary:
Each story is complete within itself. TABOO: PLEASE SIRS HELP ME PASS. Natasha, an overseas student at university speaks perfect English but her written work is not so good. Can she get extra tuition from her professor tutors? Listen on and enjoy. TABOO: DADDY TEACH ME EVERYTHING. This is lust from eighteen-year-old virgin Kylie and Joe, her step-father. She was 18 when she first saw Joe watching her. Initially he looked at her around the house, when they ate but mainly when she walked around in just her panties and bra. "I'm off to work and I'll see you later. You Mom is away on Friday for the weekend.' Action packed. THROUGH THE SCREEN EROTICALLY. This is a short story spoken by me as I watch and imagine: Emmanuelle! your very name conjures up images of a woman who looks so innocent but has a strong sexual desire  TABOO: THE PRIESTS' PASSIONS Father Phillip sat in the confession box listening to the young woman . He enjoyed what he did but was not happy to be celebrant: he had a strong sexual urge and had hidden it from his colleagues over the years. Father Gerry had lived a lie since he was a teenager. He was torn between the celibate lifestyle and his passion for raw sex. TABOO: PLEASE MRS TATE COLLEGE BOY EROTIC EXPERIENCE. Jessie Tate was a divorced single mum who'd not had any relationship since she threw her husband out for his infidelity. She was used to her 18-year-old college son and his friends being there but she never imagined what would happen. TABOO: PIPPA'S PASSION AND 18-YEAR-OLD VICKY CAME TOO Then one day she bent over me to point out a detail on an advert I was working on. Her perfume was power, and I inhaled, enjoying her particular fragrance. "Do you like looking down my blouse?" she asked.

 

 
Genres: