Demon Storm
Unabridged Audiobook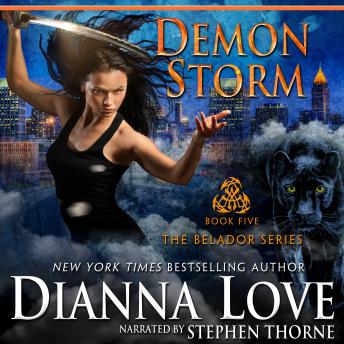 Duration:
9 hours 30 minutes
Summary:
Book five in the amazing Belador urban fantasy series by New York Times bestselling author Dianna Love
We all have demons ... some are more real than others.
With Treoir Island in shambles after a Medb attack that left the survival of the missing Belador warrior queen in question and Belador powers compromised, there is one hope for her return and their future: Evalle Kincaid, whose recent transformation has turned her into an even more formidable warrior. First she has to locate Storm, the Skinwalker she's bonded with who she believes can find the Belador queen. But Storm stalks the witch doctor who's threatening Evalle's life. When he finally corners the witch doctor, she throws Storm a curve that may cost him everything, including Evalle. The hunter becomes the hunted, and Evalle must go up against impossible odds to save Storm and the Beladors-or watch the future of mankind fall to deadly preternatural predators.
Genres: