Desert Cut: A Lena Jones Mystery
Unabridged Audiobook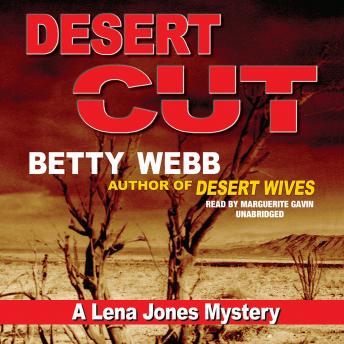 Duration:
7 hours 55 minutes
Summary:
Arizona is still a wicked frontier.

While scouting locations for a film documentary on Arizona's Apache Wars, private investigator Lena Jones and Oscar-winning director Warren Quinn discover the mutilated body of a young girl. The gruesome manner of the child's death evokes memories of Lena's own rough childhood.

Clashing with the local law, Lena's investigation uncovers a small town with a big secret, for Los Perdidos is not the Eden it first appears to be. Founded by the descendants of pioneers who fought Geronimo, the townspeople have now armed themselves against the hordes of illegal immigrants streaming across the Arizona-Mexico border. A significant population of documented foreign-born residents also lives and works in Los Perdedos at a modern plant. Lena senses a sinister force at work in the town-but where?

Then two more girls disappear from Los Perdidos, and as the death toll mounts, Lena is tempted to implement some frontier justice of her own. When she finally unmasks the killer, she discovers a chain of horrific crimes responsible for subjugating millions of girls and women around the globe.

In Desert Cut, the still vivid memory of Geronimo's war mixes with the modern immigration war, the hard life on the Arizona-Mexico border contrasts with Hollywood's slick production meetings, and the cruelty of an ancient practice is tempered by a growing underground railroad fighting to save its young victims.
Genres: