Despised & Desired: The Marquess' Passionate Wife
Unabridged Audiobook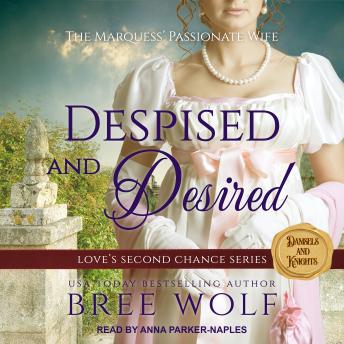 Duration:
9 hours 27 minutes
Summary:
A tortured hero. A lady with the heart of a lion. And an unbreakable bond.

Elsbeth Munford is set to marry a dashing viscount until an accident destroys her life. Devastated, Ellie resigns herself to a life of spinsterhood, her beauty tainted by ugly scars.

Until one day, when she receives a proposal of marriage . . . from a man she loved long ago.

Frederick Lancaster, brother to the Marquess of Elmridge, returns home from war. Unable to make his peace with the past, he retreats into the dark until his brother dies unexpectedly and Frederick is thrust into a world of duty. In order to father an heir, he agrees to marry . . . a woman he does not remember.

Can Frederick see past Ellie's scars? Will Ellie be able to heal his wounded soul?

This tale by a USA Today bestselling author of two broken souls searching for love shows that sometimes the most painful scars are the ones we cannot see.
Genres: