Devil's Gate: NUMA Files #9
Unabridged Audiobook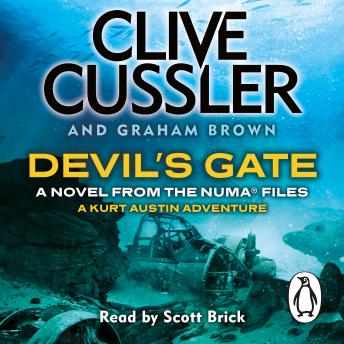 Duration:
12 hours 26 minutes
Summary:
Penguin presents the unabridged, downloadable, audiobook edition of Devil's Gate by Clive Cussler and Graham Brown, read by Scott Brick.

Beneath the Eastern Atlantic Ocean lies an extraordinary underwater burial ground of ships and planes . . .

Nearby, a cargo ship blows up without warning. Racing to help, Kurt Austin and the NUMA team are beaten to the scene by armed pirates. But when the ruthless gang's own boat explodes, the NUMA men are plunged into a tangled mystery involving the creation of a weapon of terrible power and a deep-water graveyard holding a lost aircraft and its precious cargo.

An audacious plan to bring the world's major nations to their knees is set in motion, and only Kurt Austin can stop it . . .
Genres: