Digging for the Truth: One Man's Epic Adventure Exploring the World's Greatest Archaeological Mysteries
Unabridged Audiobook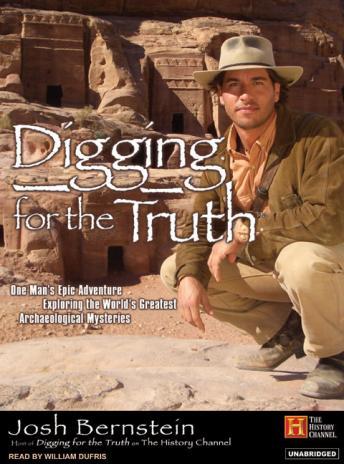 Duration:
7 hours 30 minutes
Summary:
Digging For the Truth: A Real-Life Adventurer Explores the World's Greatest Ancient Mysteries
Josh Bernstein, host of The History Channel's hit series Digging for The Truth, takes readers beyond the cameras for an even closer look at his adventures through some of the most intriguing, remote, and physically challenging locations on the planet as he explores the world's greatest ancient mysteries.

No location is too dangerous, no terrain too rough, no culture too exotic for explorer and survival expert Josh Bernstein. With his unique hands-on approach, he travels the globe, seeking answers to some of the most enigmatic mysteries of the ancient world. Digging for the Truth shares Josh's personal stories, journals, and insights, revealing the risks and dangers of what went on behind the scenes in shooting the show, and the fascinating details about what he uncovers along each adventure. Readers are right in the action as he:

Discovers who built Egypt's pyramids and learns what secrets may be buried below the Sphinx.

Follows the trail of the Lost Ark of the Covenant to the remote monasteries and churches of Ethiopia.

Explores the journey of a potential Lost Tribe of Israel and examines DNA evidence that could make or break their claim.

Visits the ancient site of Stonehenge, witnesses a Druid ceremony, and learns what purpose the stone circles may have served.

Sails a Viking ship on a quest to determine if the Vikings landed in the New World five hundred years before Columbus.

Lives with a remote and mostly naked tribe in the Amazon to search for hidden cities and learn the fate of one of the world's great explorers.

Listeners will have access to all the inside details that viewers never see-everything from food poisoning and spider bites to the logistical challenges of shooting in some of the most remote places on earth.
Genres: