Diplomatic Immunity
Unabridged Audiobook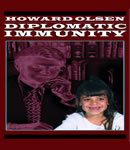 Duration:
3 hours 48 minutes
Summary:
Joe Ash is on a mission to save his daughter. The odds are against him and everyone knows it. Everyone except Joe. He knows what has to be done and knows how to do it. The assailant
he must face is ruthless, cold blooded, and worst of all, above the law. What if this man came to your neighborhood…what if he kidnapped your little girl…What if there was nothing you could do about it because he was covered under…

DIPLOMATIC IMMUNITY.
Genres: