Discernment of Spirits in Marriage: Ignatian Wisdom for Husbands and Wives
Unabridged Audiobook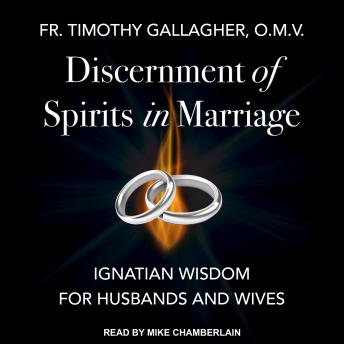 Duration:
3 hours 9 minutes
Summary:
To navigate the inevitable ups and downs of our spiritual lives, countless souls have found comfort and guidance in St. Ignatius of Loyola's Rules for Discernment. For the past forty years, popular retreat master and author Fr. Timothy Gallagher has been at the forefront of making St. Ignatius's Rules understandable and applicable to hundreds of thousands of Catholics seeking greater sensitivity to the movements of their souls. Now Fr. Gallagher returns with a more focused mission: to help you apply these rules to your role as a husband or a wife.

In Discernment of Spirits in Marriage, Fr. Gallagher aims to free you from discouragement and assist you in finding peace in your spiritual life and in your marriage.

With St. Ignatius and Fr. Gallagher as your guides, you'll learn: how to identify and remove spiritually harmful habits; the eleven forms of spiritual desolation and the four things you must do to combat it; why God permits spiritual dryness; the easiest way to resist temptation; your marriage's most vulnerable place and how to strengthen it; the four tactics of the enemy and the grace-filled responses you can offer to each; and the five ways in which God strengthens husbands and wives who seek to grow spiritually.
Genres: