Divine Blindside
Unabridged Audiobook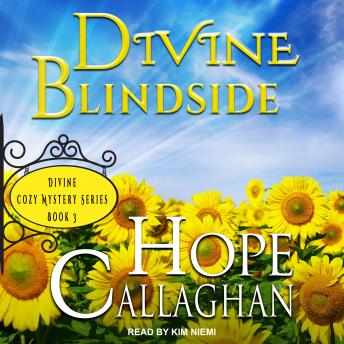 Duration:
5 hours 3 minutes
Summary:
Despite being blindsided by a stranger who threatens to expose her past and take everything from her, Jo Pepperdine must help clear the name of one of the Second Chance residents after she becomes a prime suspect in a co-worker's murder.

Fall has arrived in the tiny town of Divine, Kansas, and the area residents are gearing up for the annual fall festival including Delta, who is determined to win the baking contest and beat last year's reigning champion.

Meanwhile, one of Joanna Pepperdine's Second Chance residents, Sherry Marshall, is hired as a server at Divine Delicatessen. Not everyone is thrilled with the new employee and soon after, the person tasked with training her is murdered, and Sherry becomes the prime suspect.

Jo is convinced Sherry was not involved and is determined to clear her name, despite being blindsided after a stranger shows up at the farm, threatening to expose Jo's secret past and take everything that matters most . . . her family, friends, and beloved farm.
Genres: