Divine Secrets
Unabridged Audiobook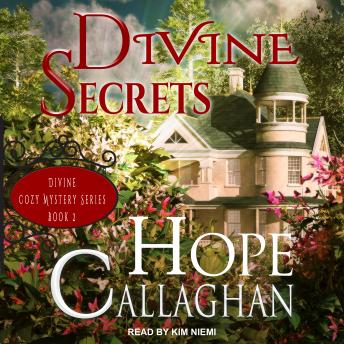 Duration:
4 hours 19 minutes
Summary:
Hoping to build trust with the Divine locals, Joanna Pepperdine and the Second Chance residents host an open house to get to know the townsfolk better. The event is a huge success . . . that is until a guest finds a wallet belonging to a man who is now missing.

Joanna Pepperdine has decided to host an open house at her place to give the Divine, Kansas locals a chance to meet not only her, but also the residents of the halfway house she's opened for former female convicts.

Despite her fears the event will blow up in her face, it goes off without a hitch . . . until one of the guests finds a wallet, belonging to a local man who is missing.

Soon after, the missing man's body is found near the farm, which leads the authorities to Jo's place. They uncover more clues, all pointing toward someone who lives at the farm.

On a mission to clear their names, Jo discovers someone in the charming small town of Divine may be willing to kill to keep their secrets.
Genres: