Divine Transformation: The Divine Way to Self-clear Karma to Transform Your Health, Relationships, Finances, and More
Unabridged Audiobook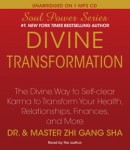 Duration:
9 hours 30 minutes
Summary:
From the #1 New York Times bestselling author, Divine Transformation presents simple and practical techniques and offers major permanent divine treasures to transform every aspect of readers' lives.

Everyone wants to transform something in their lives. Now the seventh book in Master Zhi Gang Sha's bestselling Soul Power Series teaches the divine way to transform every aspect of your life, including your:

Karma is the root cause of success and failure in every aspect of life. Bad karma is the root blockage underlying any and every challenge that you, humanity, and Mother Earth face. Divine Transformation teaches sacred wisdom, knowledge and practical treasures to self-clear karma in order to remove the blockages and transform the challenges in your life .
Genres: