The D'Karon Apprentice: The Book of Deacon Series, Book 4
A free trial credit cannot be used on this title.
Unabridged Audiobook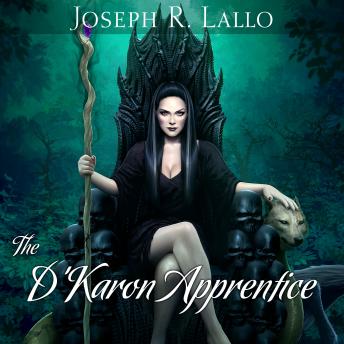 Duration:
21 hours 22 minutes
Summary:
It has been months since the Chosen finally defeated the D'Karon and the Perpetual War came to an end. Once warriors, Myranda, Deacon, Ivy, and Ether must now take on the role of diplomats in the ongoing task of preserving the unsteady peace between the lands of Tressor and the Northern Alliance. Generations of war have left a deep distrust between the people on both sides of the border, and any sign of treachery or hostility could cause a new war to flare. If that happens, the weakened Northern Alliance will have little hope to survive against the military might of their neighbor to the south.



A mysterious figure, long slumbering and forgotten, has stirred in the wake of the Chosen triumph. She is not pleased to find the D'Karon no longer answer her calls, and she sets out to find them once more. This woman, a powerful necromancer with deep knowledge of D'Karon magic and little concern for the world and its people, spreads chaos wherever she goes. Her bloody swath through the southern lands is just the spark the volatile world needs to take to flame once more.



To keep their lands from descending back into a war that will claim the lives of untold thousands, Myranda, Deacon, and Myn must venture into the heart of Tressor. Escorted by a Dragon Rider named Grustim and surrounded by fear and distrust, the road ahead will not be difficult, but the chosen have fought too hard and lost too much to lose it all to this dark apprentice.
Genres: