Do No Harm: Stories of Life, Death, and Brain Surgery
Unabridged Audiobook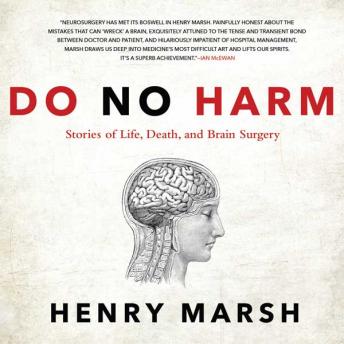 Duration:
9 hours 35 minutes
Summary:
Longlisted for both the Guardian First Book Award and the Samuel Johnson Prize for Non-Fiction, Do No Harm ranks alongside the work of Atul Gawande, Jerome Groopman, and Oliver Sacks.

With compassion and candor, leading neurosurgeon Henry Marsh reveals the fierce joy of operating, the profoundly moving triumphs, the harrowing disasters, the haunting regrets, and the moments of black humor that characterize a brain surgeon's life. If you believe that brain surgery is a precise and exquisite craft, practiced by calm and detached surgeons, this gripping, brutally honest account will make you think again.

Henry Marsh studied medicine at the Royal Free Hospital in London, became a Fellow of the Royal College of Surgeons in 1984 and was appointed Consultant Neurosurgeon at Atkinson Morley's/St George's Hospital in London in 1987. He has been the subject of two major documentary films, Your Life in Their Hands, which won the Royal Television Society Gold Medal, and The English Surgeon, which won an Emmy. He was made a CBE in 2010. He is married to the anthropologist and writer Kate Fox.
Genres: