Doctor Is In
Unabridged Audiobook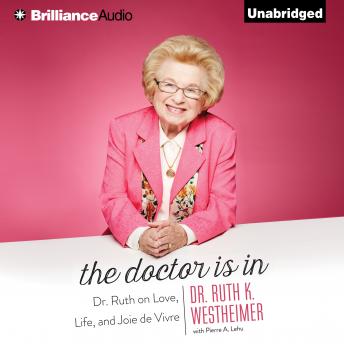 Duration:
6 hours 41 minutes
Summary:
The doctor is in! America's best-loved therapist, Dr. Ruth, is known for her wise counsel on all matters of the heart. Here she shares private stories from her past and her present, and her insights into living life to the fullest, at any age.

Everyone knows Dr. Ruth as the most famous and trusted sex therapist, but few people know she narrowly escaped death during the Holocaust, was raised in an orphanage in Switzerland, or that she was a sniper during Israel's War of Independence. After years spent as a student in Paris, Dr. Ruth came to America dreaming of a new life though never expecting the dramatic turns that would take place. And at the age of eighty-seven, she is as spirited as ever.

Through intimate and funny stories, Dr. Ruth sheds light on how she's learned to live a life filled with joie de vivre. And she shows listeners how they too can learn to deal with tragedy and loss, challenges and success, all while nourishing an intellectual and emotional spark, and, above all, having fun! Hilarious, inspiring, and profound, The Doctor Is In will change the way you think about life and love, in all their limitless possibilities.
Genres: