Doctor Who: Project Who?
Unabridged Audiobook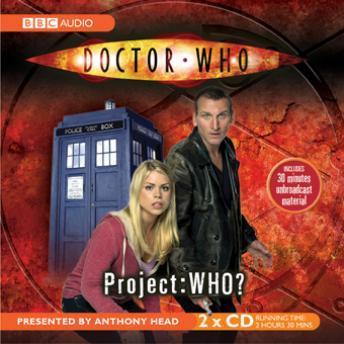 Duration:
2 hours 27 minutes
Summary:
Christopher Eccleston and Billie Piper are among those talking exclusively about the smash hit 2005 TV series Doctor Who in this BBC Radio 2 documentary, presented by Anthony Head. Project: Who? goes exclusively behind the scenes of Doctor Who to discover how the action-packed new BBC1 series was made, with award-winning writer and executive producer Russell T Davies at the helm. Featuring new and exclusive interviews with the cast and creative team, the programme examines why the BBC decided to launch the new television series now, nearly a decade after the Doctor's last small screen adventure. It also explores how the format of the show was developed for a new audience, how the character of the Doctor was cast, and how his adventures are launched and marketed around the globe. Christopher Eccleston and Billie Piper - who play the Doctor and Rose - talk about their experiences on the new series, along with executive producers Julie Gardner and Mal Young, writer and executive producer Russell T Davies, writer Mark Gatiss, director Joe Ahearne, producer Phil Collinson and many others. This CD version also contains an additional 30 minutes of material not included in the BBC Radio 2 broadcast.
Genres: