Dog Aggression Management: The Comprehensive Training Guide Managing Behavior & Aggressive Prevention In Dogs
A free trial credit cannot be used on this title.
Unabridged Audiobook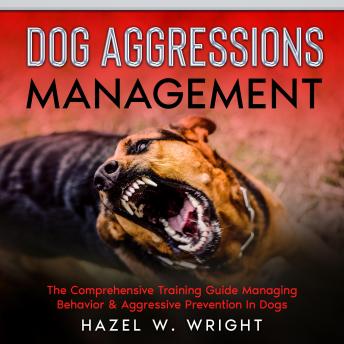 Duration:
2 hours 10 minutes
Summary:
★★★ Does your dog bark at passing pedestrians? ★★★

Does your beloved pet growl at every visitor that steps into your yard? Does Fido hide in a corner whenever fireworks go off in the distance? Does a fun day at the dog park often boil over into a snarling standoff? Does your sweet pet bully or get bullied by other dogs?

Whether your dog is aggressive, socially inexperienced, or perpetually anxious, the constant tension and discord that is created by this lead to a stressful and uncomfortable environment for everyone involved. As a dog trainer with years of experience specializing in dealing with dog aggression, I have helped countless owners and dealt with this issue in my own household.

The good news is help has arrived! In this book, you will learn about:


- Understanding canine social systems
- Different types of canine aggression
- If all aggression is bad
- Does neutering help
- Calming and stress signals
- What you can do to help
- Common mistakes that owners make
- What to do in a worst-case scenario
- The pathways that lead to aggression

This book will become your all-inclusive guide in rehabilitating and training your beloved pet from an anxious mess into a social butterfly. Learn how to save your aggressive dog and teach them healthy and acceptable ways to deal with their stress.

Learn how to:


- Desensitize your dog to things that scare them
- Read the signals of stress, aggression, and anxiety in your pet
- Correct aggressive behavior
- Make use of multiple training techniques
- Take charge and break up dog fights

With the right tools under your belt, you take your pet from an unhappy potential danger and turn them into the happy and loving family dog you always knew they could be!
Genres: