The Dog Who Took Me Up a Mountain: How Emme The Australian Terrier Changed My Life When I Needed It Most
Unabridged Audiobook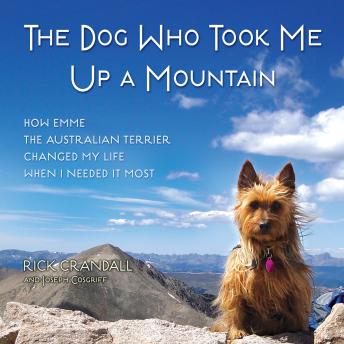 Duration:
6 hours 12 minutes
Summary:
The uplifting story of two unlikely mountaineers: a man in late middle age and a fearless pint-sized pup who, together, scale Colorado's highest peaks.

By the time life had finished hitting Rick Crandall from all sides, he was at the lowest point of his life, both personally and professionally. Depressed to find himself facing a mid-late-life age crisis and watching his finances crumble as the tech industry bubble burst, he hopes his future isn't headed downhill. It is at this critical juncture in their new marriage that his wife, Pamela, makes an astute and life-changing suggestion: 'Let's get a dog.'

So begins the story of Emme, a two-hundred-pound Saint Bernard trapped in the body of a five-pound Australian terrier puppy. Soon, Emme and Rick hit the hiking trails around Aspen, Colorado. While she is groomed to be a show dog, it's soon obvious that her heart is in the hills and with Rick, who decides to add more challenging hikes to the mix. Before long, they are scaling Colorado's 'fourteeners,' peaks with altitudes of over 14,000 feet. On one magical day, Emme climbs to the top of four 'fourteeners,' a quarter of the sixteen such peaks she will complete during her life without once being carried on a trail or on the rocks on the way to a summit.
Genres: