Don't Look Back
Unabridged Audiobook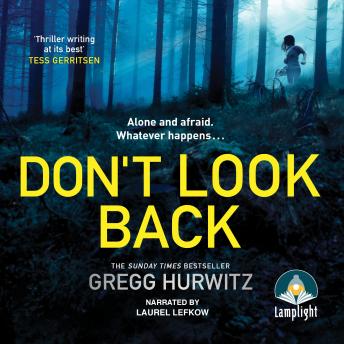 Duration:
11 hours 0 minutes
Summary:
It was the holiday of a lifetime - a chance for Eve Hardaway to rediscover herself following the break-up of her marriage. Until Eve catches a glimpse of someone she should never have seen. She was not the first to do so. But a woman who previously laid eyes on this mysterious stranger has disappeared without trace. Soon Eve and her travelling companions look set to suffer the same fate. Then a storm cuts off their remote jungle camp from the outside world. And Eve knows that if she is ever going to see her young son again, she will be forced to find reserves of courage and resourcefulness she never dreamt she possessed. Or die trying ...

With great pace and pitch-perfect characterisation, Gregg Hurwitz ratchets up the tension in Don't Look Back. Fans of Harlan Coben and Simon Kernick will be hooked from the word go.

Praise for Gregg Hurwitz:

'Outstanding in every way' Lee Child

'Pure nail-biting stay-up-all-night suspense' Harlan Coben

'Thriller writing at its best' Tess Gerritsen

'Memorable as hell' James Patterson

'So fast it should come with and airbag' Linwood Barclay


Praise for Don't Look Back:

'Hurwitz never disappoints and with Don't Look Back he takes his storytelling talents to new heights of suspense and terror ... From the opening moment of tension to the singularly terrifying final act, this story of survival and death left me breathless.' James Rollins

'Thrilling ... Hurwitz skilfully ratchets up the tension as his characters prove their mettle through nerve-wracking and exciting trials' Publishers Weekly

'Hurwitz again proves himself a plot master ... he adds to his string of imaginative thrillers with an action-adventure story ready for blockbuster Hollywood' Kirkus Reviews

'A terrific book. Terrifying and exhilarating ... Don't Look Back is thrilling beginning to end and powerfully gratifying.' Megan Abbott

'A taut, smart, suspense-filled ride to satisfy the most discerning of thrill seekers.' Library Journal

Gregg Hurwitz is the internationally bestselling author of You're Next, Or She Dies, We Know and I See You. A graduate of Harvard and Oxford Universities, he lives with his family in California, where he writes screenplays, television and comics including Batman and Wolverine.
Genres: