Down the Shore
Unabridged Audiobook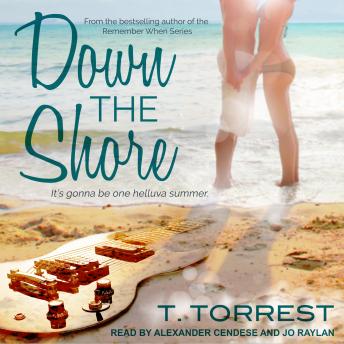 Duration:
9 hours 44 minutes
Summary:
A rock-and-roll romantic comedy.

Livia Chadwick is a photographer by day and a self-proclaimed rock-n-roll junkie by night. Her dating life is a lackluster parade of evasive jerks and her boss is an unrelenting nightmare of a human being. What else can a girl do but rent a beach house with her girlfriends and blow off a little steam every weekend? But hey, she's from Jersey. Barhopping down the shore all season is sort of mandatory. All is going according to plan . . . until she meets Jack.

Jack Tanner is a contractor-turned-musician in a small-town cover band suddenly thrust into the limelight. He's already had enough of the rock-and-roll lifestyle, and groupies have never been his thing. Then again . . . there's a gorgeous brunette in the audience tonight, checking him out with the most incredible green eyes he's ever seen.

She's looking for a fling. He's looking for forever. It's gonna be one helluva summer.
Genres: