Dreams of the Dead
Unabridged Audiobook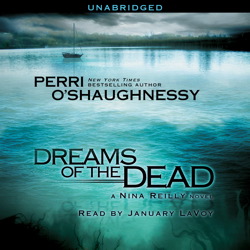 Duration:
10 hours 12 minutes
Summary:
In a spellbinding new thriller, New York Times bestselling author Perri O'Shaughnessy plunges the audacious yet all-too-human Nina Reilly back into the center of a murderous family game and reawakens a very real nightmare she had every reason to believe was dead…and buried.

In addition to coping with her demanding, sometimes creepy clients, Nina Reilly is dealing with prickly personal issues involving her sixteen-year-old son, Bob, his estranged father, and her investigator, confidante, and sometimes lover, Paul van Wagoner.

Then, in walks disaster. The millionaire owner of a Tahoe ski resort, Philip Strong, is the father of Jim Strong: a sociopath who devastated many innocent lives, including Nina's when she defended Jim again charges of murder two years earlier.

He shattered her life, then vanished. Paul van Wagoner made sure of that.

Now in negotiations to sell his ski resort, Philip has received a letter purportedly from his fugitive son in extradition-free Brazil, demanding his share of the profits. Nina is certain it's a con, but to prove that means exposing the secrets of someone very close to her. But when two local women are murdered, Nina begins to question their links to her client and the truth about Jim Strong's sudden disappearance.

As Nina's worst fears flood back, with time running out, she's about to discover that the dreams of the dead can still destroy the living. With its breakneck pace, pulsing human drama, and serpentine twists, Dreams of the Dead once again establishes why O'Shaughnessy has been hailed as "a master of the legal thriller" (Vincent Bugliosi).
Genres: