The Drive To Aim High: Seven Powerful Mindsets Proven to Guarantee Your Success
Unabridged Audiobook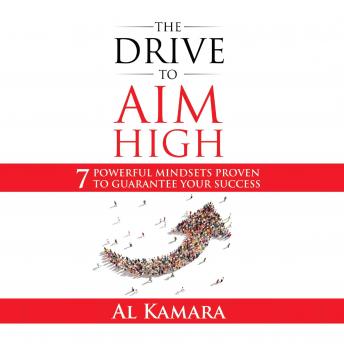 Duration:
3 hours 0 minutes
Summary:
Where Do You See Yourself In 3 Years?
Are you on track to achieve your goals?
Or, do you find yourself constantly frustrated with your progress?
If you're reading this, then you probably want something better.
And that's exactly what you are going to get.
"We Are What We Repeatedly Do. Excellence, Then, Is Not An Act, But A Habit."
Learn How To Aim High & Become The Most Successful Version Of Yourself!
By the end of this eye-opening leadership book, you will be able to develop the Seven Powerful Mindsets that will not only help you overcome obstacles, but also develop the habits of success.
Instead of wasting the most productive years of your life chasing other people's dreams, you can finally start your own business adventure. And the only way to do it is to... Aim High.
Why Choose This Comprehensive Success Guide?
Because you want to learn HOW to be more successful, not WHY. Every single chapter will help you understand the importance of a different mindset and HELP you integrate it into your daily life.
Because your adventurous spirit cannot be contained by a dead-end job. You want more in your personal and professional life and this is the way to pursue your dreams.
Because you want to learn from people who have already walked the walk. And author Al Kamara is one of the top advertising entrepreneurs in Romania.
What's In It For You?
Maximize Your Understanding of Life through the Observation Mindset
Identify Hidden Possibilities with the Possibility Mindset
Never Give Up On Your Hopes & Dreams with the Resilience Mindset
Develop Your Skillset with the Passion Mindset
Stop Fearing Failure with the Courage Mindset
Elevate Your Spirit & Keep Moving Forward with the Persistence Mindset
Think & Act Like A True Leader with the Legacy Mindset
Are you ready?
Genres: