The Duel: A Captivating Guide to the Lives of Alexander Hamilton and Aaron Burr
A free trial credit cannot be used on this title.
Unabridged Audiobook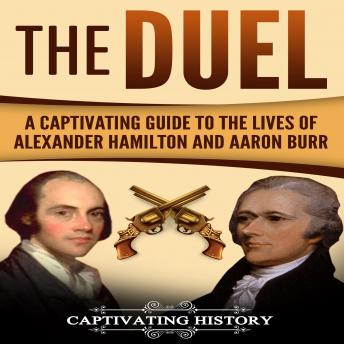 Duration:
4 hours 17 minutes
Summary:
Explore the Individual Lives of Alexander Hamilton and Aaron Burr and their Duel

Two captivating manuscripts in one audiobook:


- Alexander Hamilton: A Captivating Guide to One of the Founding Fathers of the United States of America
- Aaron Burr: A Captivating Guide to the Life of Aaron Burr and the Most Famous Duel in American History

Alexander Hamilton is one of the most extraordinary figures in American history. A deep thinker, a military leader, and a political dynamo, he was George Washington's right-hand man and perhaps the most important figure in the shaping of the Constitution. His policies and practices in government set the United States down a path of commercial wealth and economic stability. His ideas still resonate in the powerful nation he helped create.

The First Part of this Audiobook Includes Captivating Stories and Facts about Alexander Hamilton's


- Caribbean Childhood
- Education and Quest for Finding Work
- Military Career
- First Steps in Politics
- Part in the 1796 Election Campaign
- Time in Public Office
- Life After the Treasury
- Affair with Maria Reynolds
- Legacy

Furthermore, Alexander Hamilton also played a big role in


- The Constitutional Convention
- Creating the Federalist Papers
- The Formation of a National Bank
- The Creation of Parties

The Second Part of this Audioook Covers Aaron Burr as


- A Young Man
- A Revolutionary
- A Politician
- A Vice President
- A Duellist
- A Conspirator
- And an Exile

Scroll to the top and select the 'Add to Cart' button so you can learn more about Alexander Hamilton, Aaron Burr and their Duel!
Genres: