Dust and Shadow: An Account of the Ripper Killings by Dr. John H. Watson
Unabridged Audiobook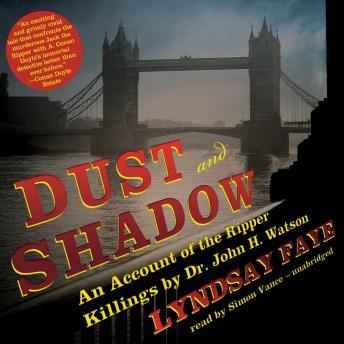 Duration:
9 hours 46 minutes
Summary:
Breathless and painstakingly researched, this is a stunning debut mystery in which Sherlock Holmes unmasks Jack the Ripper. Lyndsay Faye perfectly captures all the color and syntax of Conan Doyle's distinctive nineteenth-century London.
In Dust and Shadow, Sherlock Holmes hunts down Jack the Ripper—the world's first serial killer—with impeccably accurate historical detail and without the advantage of modern forensics or profiling. Sherlock's desire to stop the killer who is terrifying the East End of London is unwavering from the start, and in an effort to do so he hires an "unfortunate" known as Mary Ann Monk, the friend of a fellow streetwalker who was one of the Ripper's earliest victims. However, when Holmes himself is wounded in Whitechapel attempting to catch the villain, and a series of articles in the popular press question his role in the crimes, he must use all his resources in a desperate race to find the man known as "The Knife" before it is too late.
Penned as a pastiche by the loyal and courageous Dr. Watson, this debut signals the arrival of a tremendous talent in the mystery and historical fiction genres.
Genres: