Dydeetown World
Unabridged Audiobook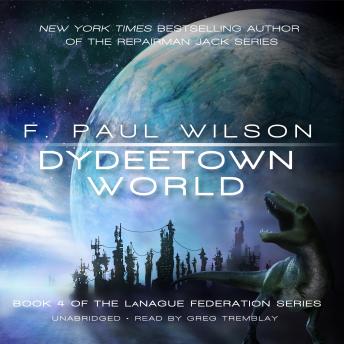 Duration:
5 hours 15 minutes
Summary:
Welcome to the future …

Where the cream of humanity has left for the outworlds, leaving the rest behind; where genetically redesigned T-rexes have supplanted pit bulls; population control measures have created an underclass of Urchins, unlicensed children who have no rights—not even the right to exist; where wireheads with chips in their brains live vicariously through the downloaded experiences of others; and where the UN has been turned into a brothel known as Dydeetown, peopled by clones of famous personalities from history and entertainment.

Where a Dydeetown clone of Jean Harlow asks a down-and-out private eye named Sig Dreyer to find her missing lover. Though Sig loathes the idea of working for a clone, Harlow-c is paying in gold, and that's hard to turn down. Just a missing-person case … should be simple enough.

But neither realizes that Sig's investigation will tip the first domino in a cascade of events that will turn their world upside down.
Genres: