The E-Myth Real Estate Brokerage: Why Most Real Estate Brokerage Firms Don't Work and What to Do About It
Unabridged Audiobook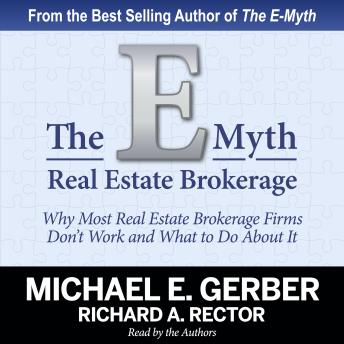 Duration:
6 hours 49 minutes
Summary:
Running a successful real estate brokerage firm is a juggling act. You need expertise in your practice area to provide services to clients. You also need the know-how to run a small business. You've probably been well prepared by your education or experience for the technical ins and outs of operating a real estate brokerage. Yet what training has prepared you to run a business? The E-Myth Real Estate Brokerage fills this knowledge gap, giving you a complete toolkit for either starting a real estate company from scratch or maximizing an existing company's performance. Loaded with practical, powerful advice you can easily use, this one-stop guide helps you realize all the benefits that come with a thriving real estate brokerage. 

Combining the wisdom of renowned business-development expert Michael E. Gerber and the real-estate-broker expertise of Richard A. Rector, The E-Myth Real Estate Brokerage equips you to:


- Liberate yourself from the predictable and often overwhelming tyranny of unprofitable, unproductive, and time-consuming routines
- Transform yourself from a successful real estate broker into a successful real estate broker-manager-entrepreneur
- Rethink your practice, shifting from tactical thinking (working "in" your business) to strategic thinking (working "on" your business)
- Stop trading time for dollars
- Manage those processes through which people get things done, which becomes your Management System - for everything you do
- Implement innovative systems to produce consistent results as your practice grows
- Take the sanctity of time seriously, blocking time for entrepreneurial work
- Create the story that becomes the heart of your practice 

Leading a real estate brokerage can seem like a daunting task, with too few hours in the day, too many petty management issues, and a constant struggle to create and implement systems to help you grow. The E-Myth Real Estate Brokerage offers you a road map to create a financial-advisory business that's self-sufficient, growing, and highly profitable. Take your brokerage to levels you didn't think possible with this unique guide!
Genres: